Summer Events 2017
Thursday 18th May 2.30pm
Horniman Garden, an education and a delight
Leader: Member of the Garden Team
The Horniman Museum and Garden, in Forest Hill, is an important site in south London. In recent years the gardens have been redeveloped to provide a series of themed gardens that reflect the ethnographic strength of the museum. The visit will introduce these gardens and explore the sundial trail. After the walk a visit to the museum is recommended. (There is a small charge for entry.)
Price: £5 + booking fee
Saturday 20th May 2pm
Summer walk to explore the Duke of Northumberland's River
The Duke of Northumberland's River is an artificial river dug in the sixteenth century to power watermills at Isleworth. The western section brings water from the River Colne at Longford to supplement the River Crane, and the eastern section, which the walk follows, diverts from the Crane at Kneller Gardens, Twickenham, and takes a zigzag course past the Stoop Rugby Stadium, through green inter- war suburbia, and on to Mill Platt with its small public garden, ice house remains and C17 almshouses, to the deep tidal basin at Isleworth, where the river joins the Thames.
Walk (about two hours; 5.5 km, 3.25 miles) led by Chris Sumner, Susan Darling, and Sally Williams. Most of the route is fine and level, but there are some very narrow, muddy stretches, as well as steps and ramps, including a long stepped ramped bridge to cross a main road. We therefore advise that it is not suitable for small children, buggies, wheelchairs or people with impaired mobility.
Meet at 2pm at Whitton station (in Zone 5 on main line from Waterloo to Windsor via Richmond, and also on the Hounslow loop line. H22 bus). Finish at Isleworth (Isleworth and Syon Lane stations in Zone 4 on the Hounslow loop line and Waterloo to Weybridge line via Barnes Bridge. Also buses to Richmond, Hounslow, Brentford Chiswick).
www.londonslostrivers.com/duke-of-northumberlands-river.html
Cost £5, payable on the day.
This event is being organised by the London Parks & Gardens Trust in association with The Gardens Trust
Monday 5th June 10am-6pm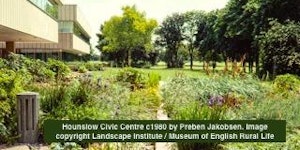 Mid to Late C20 designed landscapes: Overlooked, undervalued and at risk
Key speakers from the heritage world
This Gardens Trust conference aims to promote the understanding and significance of mid to late C20 designed landscapes - those laid out between the mid 1960s and 1990 - and to review how they might be better recognised and conserved.
The Garden Museum, Lambeth Palace Road, SE1 7LB
Wednesday 7th June 6pm
Along the Thames in Westminster
Leader: Mike Dawson, former Chair LPGT
A one-and-a-half-hour evening walk around some of the historically most important parks and green spaces in London. Starting in Parliament Square and including Whitehall, St James's Park, The Mall, Trafalgar Square, Embankment Gardens and finishing at Somerset House.
Price: £5 + booking fee
Saturday-Sunday 17th-18th June
Open Garden Squares Weekend
Feed your curiosity and explore over 230 private, secret and little-known gardens across 27 London boroughs over one very special weekend. Gardens range from the historic and traditional to the new and experimental, and include private gardens, roof gardens, community allotments, gardens belonging to historic buildings, institutions, cafés, schools and shops. One ticket gives access to numerous gardens across the weekend.
Price: £13 in advance
Wednesday 21st June 6pm
London Parks & Gardens Trust AGM 2017
The Gallery, 70-77 Cowcross Street, London, EC1M 6EL (by kind permission of Alan Baxter)
Price: Free to all members
Wednesday 21st June 6.30pm
The Trust Annual Summer Lecture
Gentle Rain, Frightening Floods and the Design of Public Open Space
Tom Turner
Tom Turner believes that the management of surface water should be a key consideration in the design of London's gardens, parks and public open spaces. A landscape architect and garden historian, he was formerly a lecturer at the University of Greenwich. Tom has written a number of books and helps edit two websites: Gardenvisit.com and Landscapearchitecture.org.uk
The Gallery, 70-77 Cowcross Street, London, EC1M 6EL (by kind permission of Alan Baxter)
Price: £10
Book by post or pay on the door.
Wednesday 12th July 6.30pm
A summer evening's walk on Richmond Hill
Leader Paul Velluet, former Chair of the Richmond Society, Architect and Historian
The walk will include visits to the site of Petersham Park - Wise and George London's formal gardens of 1693; Petersham Common woods; the Terrace Field; and The Terrace Gardens, created on landscaped grounds of Lansdowne House and Buccleuch House, acquired and laid out as ornamental public gardens by the Richmond Vestry in 1887. It is hoped that the walk will also include a visit to the beautifully landscaped grounds of Richmond University. The walk will conclude at The Roebuck PH on the Terrace overlooking the internationally renowned view from Richmond Hill.
Price: £5 + booking fee
Wednesday 9th August 2.30pm
Isleworth Parks Tour
Leader: Christine Diwell, member of LPGT and Hounslow Heritage Guide
A visit to a medley of smaller and contrasting parks. These range from one which opened in 1940 on former gravel pits, another the legacy of a larger estate designated as an open space in 1937 but not opened to the public until 1969-70, to one believed to be the oldest recreation ground in the borough, formerly part of a market garden. This opened in 1885 to the sounds of the juvenile band of the nearby Workhouse School.
Price: £5 + booking fee
Saturday 9th September 2pm
Wanstead Park
Leader: Richard Arnopp, a former committee member of the Friends of Wanstead Parklands
The walk will take in core areas of Wanstead Park's former pleasure gardens, plus four surviving buildings associated with the estate. Special access will be arranged to areas which are not normally open to the public. Some of the latest research will be discussed, along with recent improvement works. We will also touch on evolving plans for Wanstead Park's future.
Price: £5 + booking fee
Tuesday 3rd October 2pm
Alexandra Park: a park for the people
Leader: Stephen Middleton, Committee Member, Friends of Alexandra Park
The walk will take you through Alexandra Park to appreciate its scale and setting for the Palace, see evidence of its history (balloon ascents, racing, internee allotments…) and learn a little about the many species of plants, trees, insects, birds and animals which thrive there. The walk will take about two hours and will not all be on paved paths.
Price: £5 + booking fee